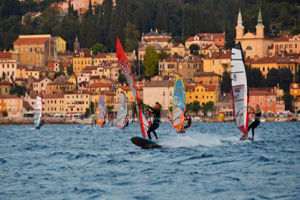 Traditional Volosko OPEN Windsurfing Regatta 2017 will be held from 23rd to 24th September 2017. (Saturday and Sunday).  It counds for the Croatian Cup, and it also plays a major role in the rating within the club. Start of the first sailing is scheduled for Saturday, September 23rd, 2017. at 6:15 am, and the same goes for Sunday. The Regatta Field will be located in the Gulf of Rijeka, in front of Volosko and Preluk.
Reference: DSNM VOLOSKO WINDSURFING
For you who don't know Volosko is situated on the west side of Preluka Bay, which is known for good windsurfing and sailing conditions. Daily thermal winds, locally known as Tramuntana, blow regularly from the north each morning, peaking just after sunrise and ending a few hours later.
Under prolonged high pressure systems, weather conditions may become stable, creating persistent winds strong enough to ensure adequate windsurfing (planing conditions) for hours each morning, making the Volosko and Preluk areas one of the most consistent windsurfing spots on the Adriatic coast.
Launch spots are at the beach near the Preluk auto camp and within the Volosko harbor itself. Each season, the local windsurfing club, DSNM Volosko, organizes one or more windsurfing races, open to both professional and amateur windsurfers.
Reference: Wikipedia Volosko