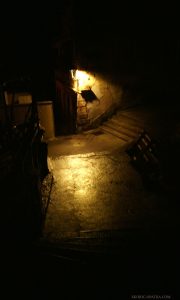 If you ever wondered where the Heart of Volosko is now you know it!
You can find it in the Dr. Andrije Mohorovičića street, the one between the main Volosko's A. Štangera street and the coastal area, just down the stairs of our apartments. This is the point where the down-the-stairs- and the up-the-stairs- walkers usually meet and where you can feel the hidden puls of the village, away from the busy and something noisy coastal and main-street life.
Volosko is a small town but with many little, narrow streets which go in all directions. First time visitors can think they've ended up in some labyrinth but don't be afraid! 😉
Volosko is located on a rather steep area that slides toward the see. Because of that you can always know that if you'll go down the stairs, which are btw numerous in Volosko, you'll certainly end up on its coast with the numerous cafes and restaurants. And vice-versa, if you go up the stairs you will, with no problems, reach the main street with shops and (of course!) more good restaurants.
So don't be afraid to explore it and let yourself be amazed by its secret beauty! 🙂